Cape Cod Waste Disposal
Rubbish & Trash Dumpsters, Junk Removal, Dump Runs, Recycling
There are many companies on Cape Cod that offer residential and commercial waste disposal. Most waste disposal companies offer many different sizes of waste containers from the residential curbside trash pickup toters (pictured below) to large metal dumpsters and roll-off containers.
Most local waste disposal companies offer recurring services like regular rubbish dumpster services and residential curbside trash pickup. There are other services on Cape Cod that offer dump runs and junk removal services for one-time cleanouts and cleanups.
The MA DEP (Department of Environmental Protection) has restrictions on what can be disposed of. The following materials and items are currently prohibited from disposal and/or transfer for disposal in Massachusetts: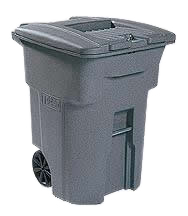 * Asphalt pavement, brick & concrete
* Cathode ray tubes
* Ferrous & non-ferrous metals
* Glass & metal containers
* Lead acid batteries
* Leaves & yard waste
* Recyclable paper, cardboard & paperboard
* Single resin narrow-necked plastics
* Treated & untreated wood & wood waste
* White goods (large appliances)
* Whole tires (banned from landfills only; shredded tires acceptable)
Some local waste disposal companies also offer portable restrooms and storage containers. There are also local services that offer pet waste removal or "pooper scooper" services for dog owners.
Commercial customers may need to get rid of several different types of waste. For instance you may need a cardboard dumpster, grease container or other specialized recycling service. Talk with your waste disposal company to create a waste management plan for your business.
Get a free estimate on your Cape Cod home improvement or home maintenance project
Recent Posts
Need a roll-off container or dumpster on Cape Cod?
Dumpster & container rental for construction, landscape, & other debris. Fill out the following form to contact our roll-off container and dumpster specialist. (Sorry, NO household garbage or hazardous materials)
READ MORE...
---
Need to get rid of appliances, building materials, trash, junk, landscape debris, etc... on cape Cod?
Please fill out the following form to contact our junk and waste removal specialist.
READ MORE...
---